Huanghuali, Chinese scientific name: Dalbergia fragrant, aliases: Hainan Dalbergia, Hainan Huanghuali, Huali. Pterocarpa spp. is a legume plant, also known as Hainan Dalbergia and Hainan Dalbergia. Originating from the low-altitude plains and hilly areas of Diaoluo Mountain Jianfengling on Hainan Island, China, it mostly grows in sunny places at an altitude of about 100 meters above sea level in Diaoluo Mountain. Because of its slow growth, solid wood and beautiful patterns, yellow rosewood, rosewood, rosewood, red sandalwood, wenge wood, iron wood is called the four famous trees of ancient China. It has always been one of the four famous trees and is now a national second-class protected plant.
Main distribution area
Mainly distributed in Vietnam, Myanmar, and Hainan, Guangdong, Guangxi, Fujian and other places.
Distribution of Dalbergia fragrant in Hainan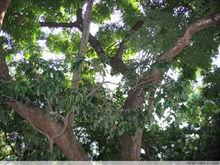 Dalbergia fragrant is sporadically distributed in the mountains and forests of Dongfang, Changjiang, Ledong, Baisha and Yaxian in the western, southwestern and southern parts of Hainan, and can be harvested in all seasons. Over the years, China's forestry department has invested a lot of manpower, material resources and financial resources in the research of "Dalbergia fragrant" seedlings, although it has been successful, but the survival rate is low, so it has not been widely promoted. According to experts, the color, texture, pattern, luster and oiliness of its heartwood (commonly known as "grid") due to the characteristics of geographical distribution and unique growth environment are very obvious. The price of darker, more oily heartwood (oil grid) in the western part of the island is slightly higher than that of the lighter and less oily heartwood (bran lattice) in the eastern part of the island, and the "fragrant dalbergia" in the eastern region has also become nearly extinct due to excessive logging during the Ming and Qing dynasties.
Introduction of Dalbergia descendum elsewhere
Dalbergia fragrant is a unique tree species in Hainan Island, except for the eastern mountainous areas with heavy rainfall and high humidity (such as Diaoluo Mountain), which are scattered throughout the island, and are more concentrated in the west. It is generally distributed in mountainous areas below 670m above sea level and even savic dry forest plains. There are small patches of pure forest in some local areas of Baisha County, Dongfang and Changjiang County. Guangdong mainland and Guangxi, Fujian and other provinces (regions) have successively introduced and cultivated, from the situation of introduction in various places, the wintering of seedlings is generally withered, but can germinate and return to normal growth.
This article is co-edited by Toutiao Encyclopedia users Wang Shufen WW, Yin Yin YT, and Popular Science China.