It's the season again, while you pack and store your winter clothes and "break away", don't forget to pay attention to the next season's fall/winter fashion week and the 2021 fall/winter collections released by major brands, oversized down jackets, thick cotton jackets, knitted long skirts and thick scarves woven by your mother, don't throw them away, and leave them for winter 2021 is the most trendy item!
Down jackets are oversized, and pajamas become fashionable items
Photo: Screenshot of Miu Miu's official website
Down jackets are a must-have item in winter, and trendy girls can combine warmth and fashion. When changing seasons, you may wish to see if the down jacket in the wardrobe is exaggerated enough, because from the autumn and winter collections released by major brands, the more exaggerated the down jacket, the more fashionable.
For example, the Miu Miu Fall/Winter 2021 collection released on the snowy mountains, oversized down jackets are not only the protagonists, the brand has also launched one-piece down jackets and wide-leg down pants. The most unexpected thing is that the "cotton pajamas" worn by the aunts were transformed into fashionable down jacket styles here at Miu Miu. However, fashion ladies should choose this fat and big down jacket, the trick is the color is pink. Sky blue, pink purple, grass green, light pink, goose yellow and other lively colors, not only warm and light, but also with a girly atmosphere. GIVENCHY's Fall/Winter 2021 down jacket jacket is also cool, finding a balance between oversized fit and cropped style, with a sense of uninhibitedness.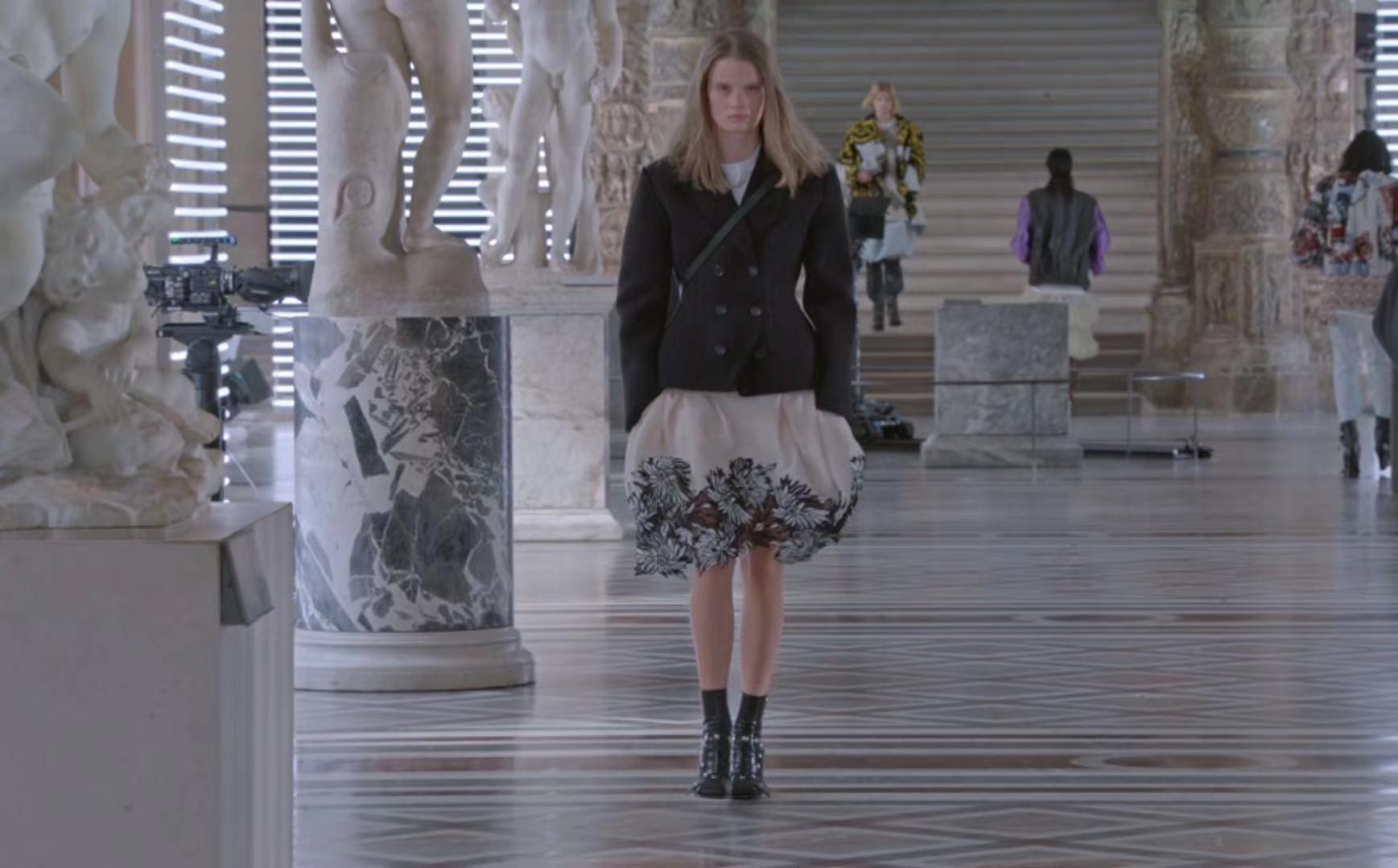 The thick "big cotton jacket" transforms into a cool jacket
Photo: Screenshot of Chloé's official website
In addition, the "big cotton jacket" in the corner of the wardrobe can also raise your eyebrows this winter, you may as well dust it and prepare to wear it out on the street. As you can see from the autumn/winter collections of major brands, the chunky jacket-style coat reappears in fashion with an oversized silhouette, which is very friendly to urban women in the north – you don't have to rely on a trench coat to survive the early winter before wearing a down jacket, and the heavy coat is enough to drive away the cold of autumn and winter.
Chloé's Fall/Winter 2021 collection looks a bit rustic, and the collision of earth tones and intricate prints reflects the designer's diverse philosophy. The collection is the debut of new creative director Gabriela Hearst since taking over Chloé, using many elements from the designer's native Uruguay, including recycled cashmere, moccash fleece, broderie embroidery, etc., especially the wool cape and down turtleneck, full of exotic and modern freedom, retro and warm.
Scarves, sweater skirts and puffy skirts are layered on top of each other
Photo: Screenshot of Louis Vuitton Fall/Winter 2021 Women's Show video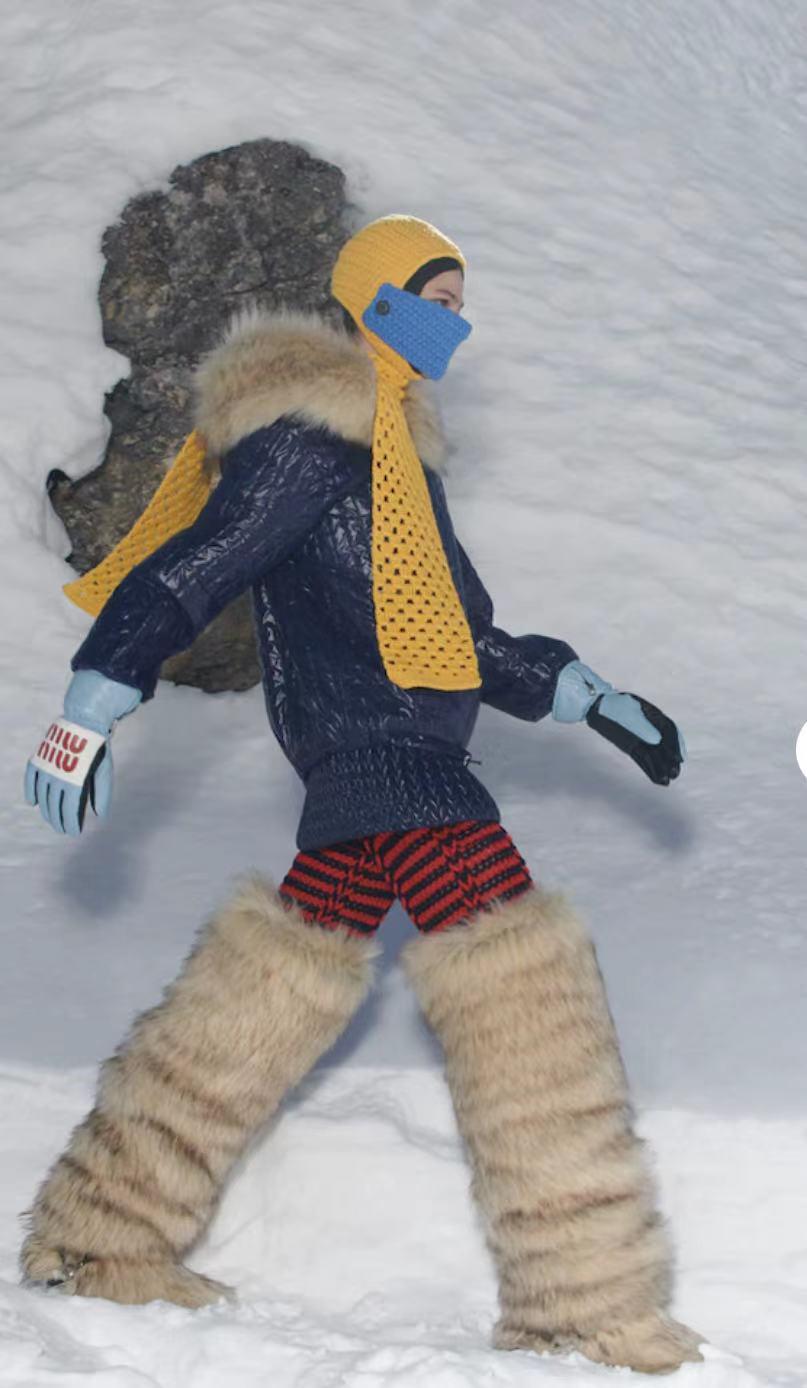 If you take a closer look at Louis Vuitton, Chloé and GIVENCHY's fall/winter collections, you'll find that the coolest thing about this winter is the multi-layered outfit. If you still have a sweater, skirt or scarf in your wardrobe, don't throw it away, in 9 months, these are the trendiest fashion items to go with a cropped coat.
In Louis Vuitton's Fall/Winter 2021 womenswear collection, Nicolas Ghesquière, artistic director of womenswear, decorates the garments with artistic patterns and beads to achieve complex visual effects. The down jacket and jacket are very eye-catching, and the knee-length puffy skirt has a girly artistic atmosphere.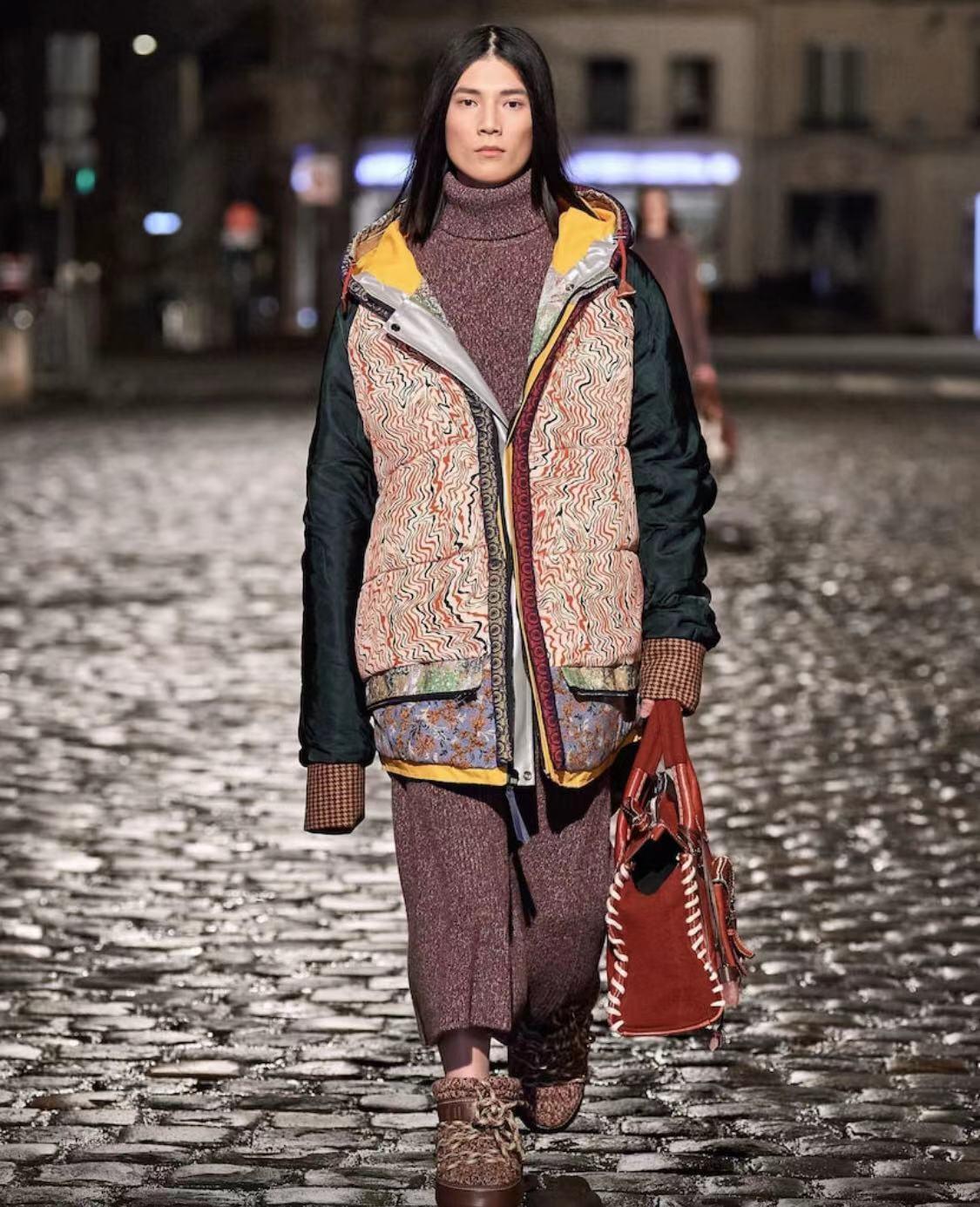 Knitted sweaters are also a highlight this autumn and winter. The knitted ski hat from the Miu Miu collection for autumn/winter is a playful accessory in itself, wrapped around the head like a helmet. Knitted slip skirts and skirts are paired with oversized down jackets for a girly look. Chloé's fall/winter collection is dominated by sweaters and knitted long skirts, rustic and elegant, full of vintage charm, with down jackets or thick wool coats and wool scarves, sexy, unique and warm.
Beijing News reporter Qu Xiaoyi
Edited by Li Zheng Proofread by Wei Zhuo
Photo: Screenshot of Miu Miu's official website