Video loading…
Yangtze River Daily-Changjiang Net, December 24 (correspondent Yang Bing, reporter Dai Minyang)
Pretending to buy a mobile phone, borrowing some money to hide a wad of large bills in the palm of his hand – on December 22, a man "tricked" in front of a salesman at a mobile phone store next to Hanyang Avenue and stole two mobile phones and 4,700 yuan in cash. The Hanyang police quickly intervened in the investigation, and at about 4 p.m. on the same day, with the cooperation of the Chibi Municipal Public Security Bureau, the criminal gang involved in the incident was arrested locally.
At about 11 o'clock on December 22, an employee of a mobile phone store called the police to say that a man who went to the store to buy mobile phones and stole two mobile phones and 4,700 yuan in cash while the clerk was not paying attention. The police of the Cuiwei Police Station of the Hanyang District Public Security Sub-Bureau immediately intervened in the investigation.

Tong Wenbei, a police officer handling the case, said that the two mobile phones purchased by the man were worth a total of 5,400 yuan, which were paid in cash, and there were zero and whole. A clerk counted the amount of 5,360 yuan, and the man said that he wanted to count it again and make up the remaining 40 yuan after confirming that it was correct.
After collecting the monitoring in the store, the police found that the man was talking to the clerk while ordering money, and when he made up the difference, he withdrew another wad of change from his wallet, took the opportunity to hide a wad of large-value banknotes of the 5360 yuan paid into the palm of his hand, folded it into the change and put it back in his pocket, took advantage of the gap between the clerk's invoice, picked up his mobile phone and said that he had something to leave, and told the clerk to pick up the invoice later. When the clerk reacted, he found that the money left on the counter was only 700 yuan.
The suspect (right) rolls a large bill into the palm of his hand and withdraws it in front of the clerk. (Video screenshot, courtesy of correspondent Yang Bing)
After the man left the store, he quickly drove away from the scene in a small car. The police followed the line and found that the vehicle came from a chain rental company. At about 4 p.m. that day, with the coordination and cooperation of the Chibi City Public Security Bureau, four criminal suspects were successfully intercepted.
At present, four criminal suspects have been criminally detained in accordance with the law.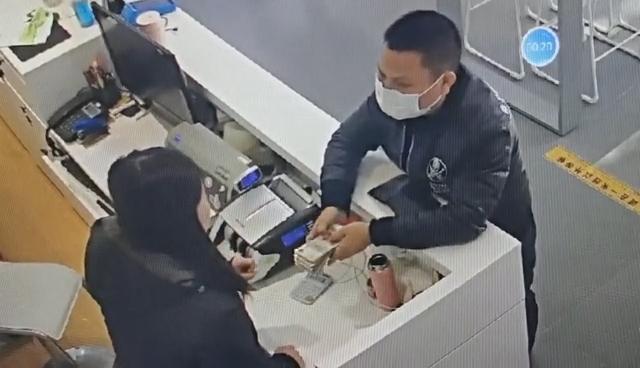 [Editor: Ding Yi]