Article source: Culture Wuping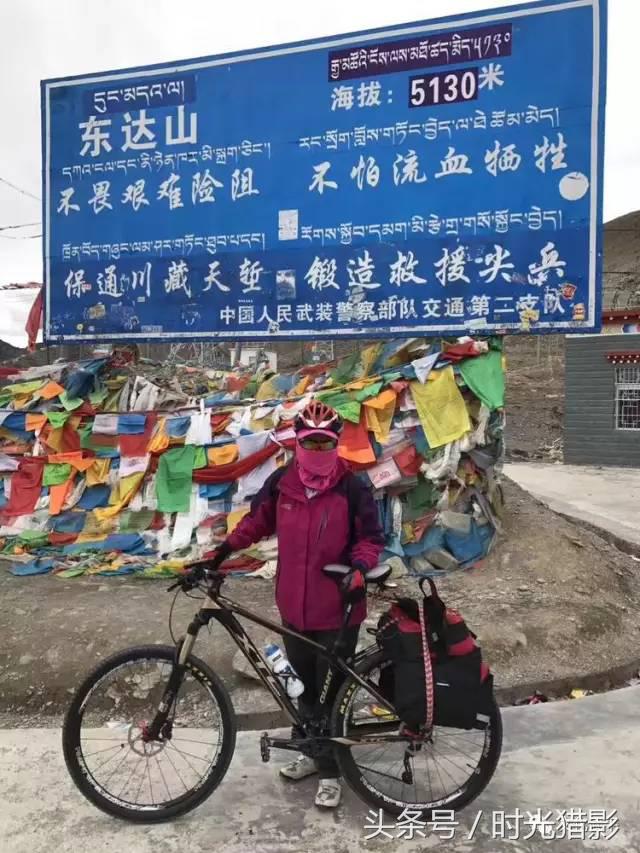 The mermaid (Jiang Yuzhining), a registered member of the Wuping County Cycling Association, made full preparations at such a time that was not very suitable for riding the Sichuan-Tibet Southern Line, but in order to follow the footsteps of the "4th (2017) International Cycling 8 Days Sichuan-Tibet Extreme Challenge", he resolutely set off!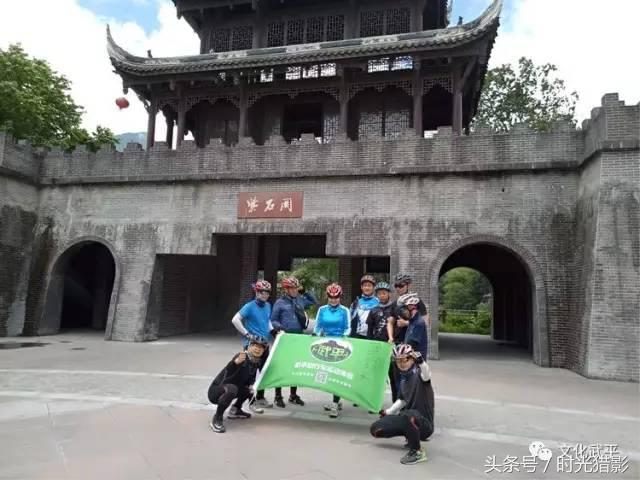 I saw Ding Tao, the "Chinese Riding King" who has ridden the Sichuan-Tibet Line countless times, and also met Ma Mingming, the rider of the Dream Tour Team, Mr. Chen and Guo Lijuan.
#8 Tianchuan Tibet Extreme Challenge# 2017-05-21 01:15:26, Chengwenqiong Expressway, Dayi County, Chengdu, Sichuan Province, light rain, breeze, 26~20°C. Star driver Ding Tao is in very good shape.
Guo Lijuan and Wuping Self-Association signed the flag.
Sichuan-Tibetan goddess Ai Qing signed a commemorative sign!
Sichuan-Tibet Iron Riding Liu Litian signed!
Sichuan-Tibet male god Sun Hui, a powerful knight, 2160 kilometers in 6 days, 17 hours and 39 minutes Sichuan-Tibet cycling record holder!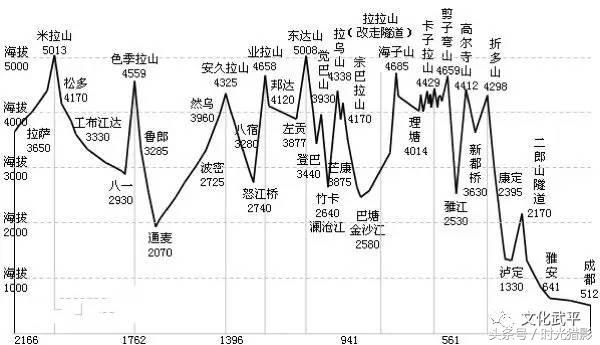 Sichuan Zang Cangwolf Tian Pinchao and Wuping Self-Association Team Flag.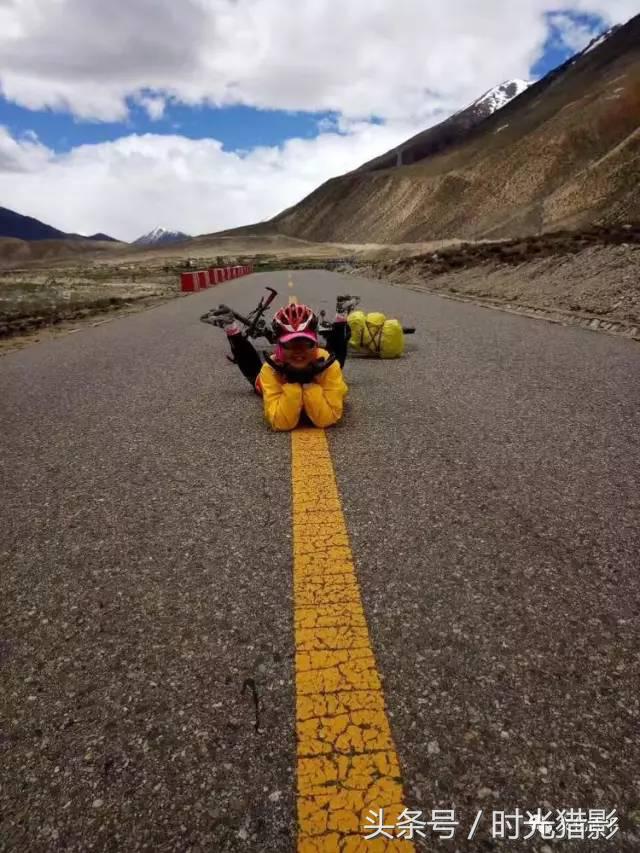 D1 day, last night accompanied them out of the city, rain is not clear to see the road conditions back, today Chengdu to Ya'an 138 kilometers, along the way on both sides of the road are rice fields, the land of Tianfu is rich in grain, no wonder all the way over are wineries, etc., the smell of wine is fragrant, almost drunk, the first time I saw a small supermarket selling wine is the whole altar mouth locked to sell bulk Wuliangye, flying alone 65 kilometers along the way can not see a person, in other words, there are not many people on the road? [Crazy] along the way, lonely and persisted, but several times the navigation said that the deviation route came back and back, the light rain at the departure, and then the heavy rain, actually the sun came out again in the afternoon!
Thanks to Ah Jing for sending me out of town!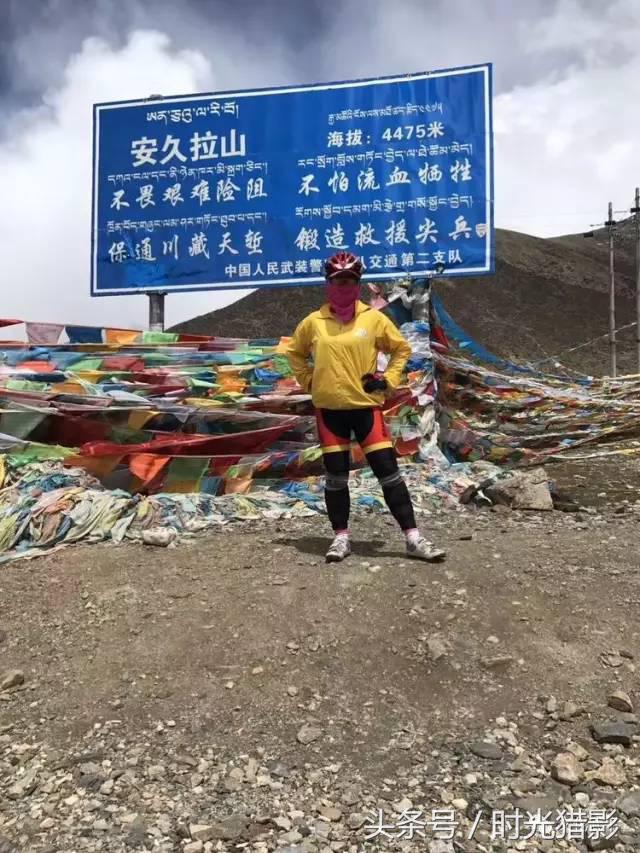 D2: Ya'an to Xingou, set out at seven o'clock in the morning and found that the tire was flat, yesterday the tire was pierced, the road conditions were poor to repair the road, it was too late to repair the tire, 318 first tie, hurry up to change the tire, the unknown riding friend Beijing Uncle is actually my dream trip teammate Ma Mingming's riding friend to rescue, he just happens to get it, we won't, it's good to tear it down, tease and snail to dismantle it together, it was done at eight o'clock, and 3 people came a solo Henan Shangqiu, a Shaanxi sail and a Guo Cheng, formed a team of 7 people together, and set off together at eight o'clock, Along the way, the uphill sun was sweaty, and 4 Jiangxi Yichun and Shangrao came, a total of 11 people, we all pulled very quickly, the team through the tunnel is very terrifying, actually the tunnel has no lights, in the panic panic collapse helpless in the countless carts after being overtaken by the torment finally passed this long tunnel, the tunnel cart rumbled loudly, at three o'clock in the afternoon rushed to Xingou 57318 inn, 92 kilometers 40 kilometers slope, abuse do not want, because of heavy rain wet can not walk, stay, The hostess was very good and quickly asked us to take a bath and wash our clothes, prepare dinner, the hair dryer blew for a long time, it was too cold, the water was biting cold, but unfortunately there was no electricity at night, save some use, hurry up to sleep tomorrow morning to get up early to rush the road, Erlangshan tunnel, Luding, target lock Kangding, more than 100 kilometers of road, 45 kilometers are slopes, come on!
During #8 Tianchuan Tibet Extreme Challenge# 2017-05-22 06:04:24, G318 (Shanghai-Nie Line), Kangding County, Ganzi Tibetan Autonomous Prefecture, Sichuan Province, showers, breeze, 18~6°C. Ding Tao passed through the mountain pass, stopped for a while, was in good condition, cold, added a pair of wire gloves, and asked about the other competitors before setting off. Goddess Ai Qing set out to fold many mountains, Ma Mingming set off early, come on the Tibetan mythical beasts!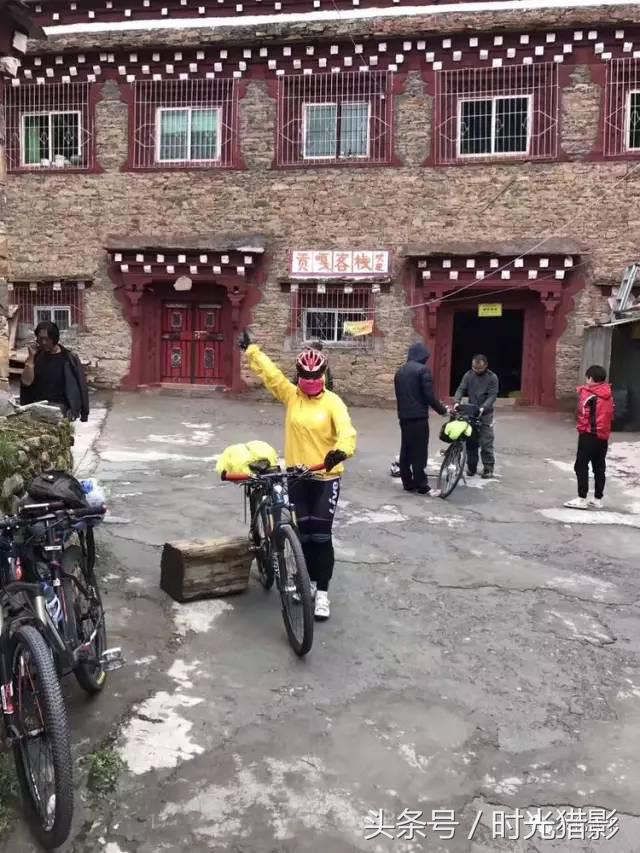 D3 day D3: Xingou ~ Kangding, really achieved yesterday's goal, the visibility of Erlang Mountain in the morning is extremely low, meet the hiker 318, arrive at Luding at 12 noon, the speed is very fast, tomorrow departure to fold the mountain pass, Xindu Bridge accommodation.
Erlangshan Tunnel, through the cave of more than 4 kilometers to Luding.
D4: Kangding _ Xindu Bridge, all the way is uphill 45 kilometers, continuous uphill, there are several steeper, from 2775 altitude Kangding 45 kilometers long slope to 4300 folds more mountainous passes, all the way large traffic blocked more than a thousand, one-way street just cycling, both sides of the passage Some large cars are too close to the dangerous danger, poor control of the car poor physical strength of riders need to pay attention, almost to the mouth of the 5 kilometers when there are too many cars, low visibility under heavy snow, and the road surface is slippery and muddy are all snow, the wind and snow hit the face painfully, eyes can not open, The wind blows people and cars slip sideways, the road is muddy with snow, can only ride carefully according to the road run over by big wheels, too dangerous, the road down the mountain is snow, chased by heavy rain and hail and lightning, wet by the rain and the soup chicken like to the Tonghua Inn in Xinduqiao, the result of the most collapsed scene, actually no electricity, no network phone does not work, it is estimated that the thunder and rain are broken, cold shivering, quickly change clothes, the storm suit is wet, and at night in the snow cold can not sleep.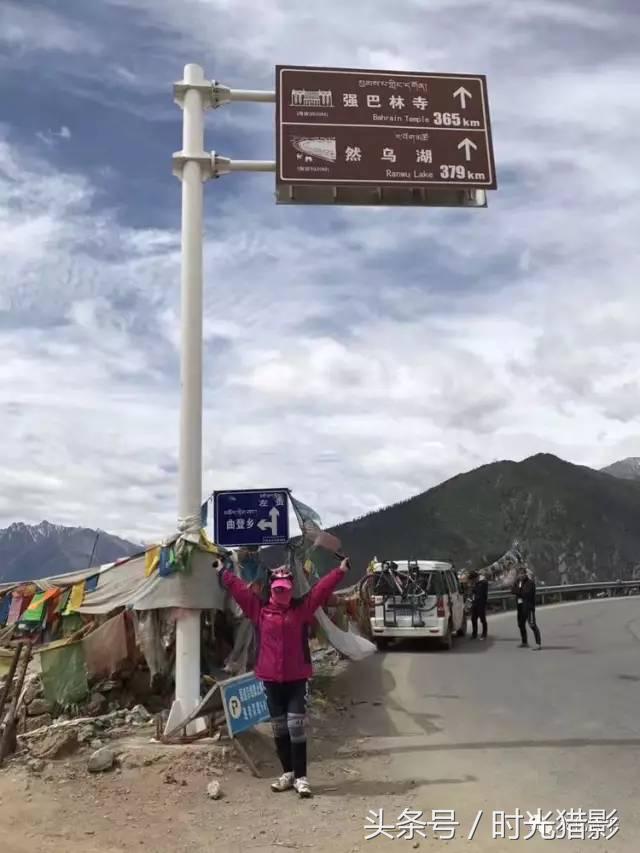 D5: Leaving Xindu Bridge, finally arrived at Xianggezong, and there was no electricity, this morning pulled to the tunnel and a team of Shandong team to pass, then continuously downhill 43 kilometers, directly downhill 20 kilometers 66, quickly brake, curve 36 has a cross wind blowing to control the car poorly, followed by 18 kilometers uphill riding to almost collapse.
D6: Xiangge Zong _ Red Dragon Township _ Litang 122 kilometers, who said that Xiang Ge Zong went out 31 kilometers long uphill Scissors Bay Mountain is enough for a tunnel on the undulating road, at noon it is difficult to climb to the pass of Scissors Bend Mountain, hail,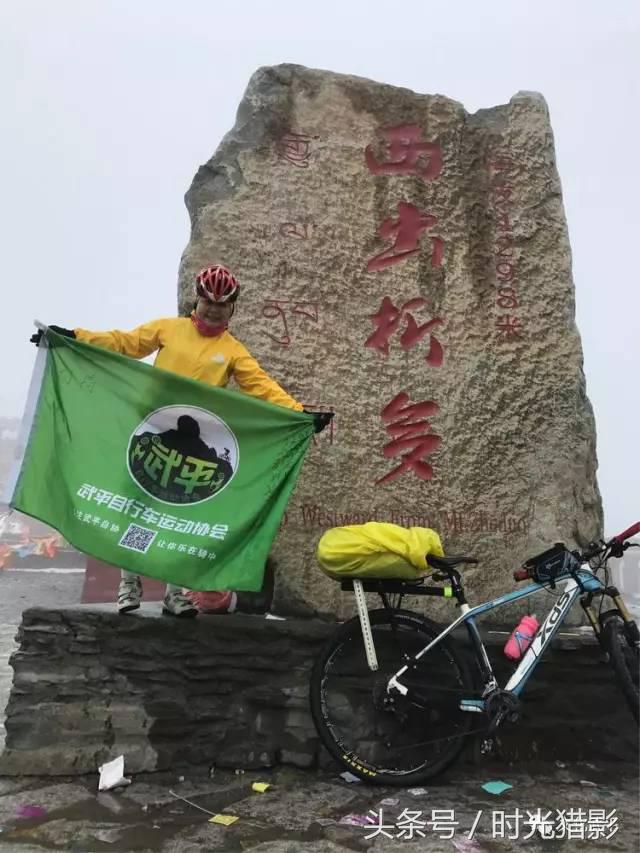 In the afternoon, I began to climb the Kazila Mountain with a slope of more than 10 kilometers, 4718 meters above sea level, I am riding above 4000 meters above sea level today, in the afternoon began to be high, sleepy, climbed the mountain without eating at noon, physical exhaustion, Yakou saw a goshawk flying over the blue sky, Xiakazila Mountain Pass began to hail all kinds of hail, tomorrow prepare to challenge Litang to Batang 200 kilometers, at the altitude to walk and talk must slow down, otherwise you will gasp.
A horse flat river, the road surface is open, today there is finally good weather, this broken slope is really cool and crooked, 68 did not feel, beautiful, downhill slope is refreshing, beautiful scenery, snow mountains and sky connected, beautiful …
D7: Litang _ Batang challenge 200 kilometers successfully, successfully over Haizi Mountain, today the intensity is good, yesterday was climbed by two mountains do not want, but also seriously high anti, miss Haizi, use cycling to commemorate my spiritual poet, my youthful frivolous poet Haizi, his far away has nothing but far away / farther place, more lonely / distant happiness, how much pain. – "Far Away"
I will not meet you tonight, and tonight I will meet the One of the world, but I will not meet you. —— "A Bouquet of Love Poems / Hawthorn Tree That kind of intertwining and pain of the soul is cathartic in Haizi's poems, facing the sea and blossoming in spring, you will think of the deceased poet Haizi…
D8 days: Batang _ Jinsha River Bridge _ Haitong Military Station _ Zongbala Mountain _ Mangkang 104 kilometers, more than 50 kilometers uphill in a row, finally reached the Tibet border, that rotten road is really bad, it is simply crossing the off-road, jumping people have a sore arm, all the way is building roads, almost thought that they were on the wrong road, fortunately it didn't rain, sunburned, look at the barley on the side of the road is very beautiful, and pulled another 10 kilometers of steep slope, from the altitude of 2573 to Zongbra Mountain 4150 tired no, today afraid of high and serious anti-serious, slowly climb the mountain, The people and cars blown by the crosswind ran away.
D9 days: Although the high anti-serious eye swelling is severe, or ride a bicycle, all the way down rocks is very dangerous, one side is the cliff wall, on the other side there are many large cars, very dangerous, to pass carefully, some roads are also blocked, can only take a ride, there are many checkpoint checkpoints, Mangkang to Raoushan 15 km climb, Shambhala, today Mangkang Inn owner just hung up.
D9, 10 days, Mangkang _ Rawu Mountain _ Jueba Mountain _ Zuogong, met Li Hui's eldest sister of Guangdong Chaoshan in Jueba Mountain, very happy [naughty] and teammates are happy together, the Dragon Boat Festival, see seeds on the street, feel that Mount Jueba is more tired than Mount Lau, although the altitude of Mount Lau is more than 4,000, and Mount Jueba is more than 3,000, Dongda Mountain is the first of two on the Sichuan-Tibet Line with an altitude of more than five kilometers, extremely challenging, generally 4 hours to reach the summit successfully, but the wind is particularly fierce, and the downhill section is dangerous to be careful , It's very happy to put the slope, there are sections to build roads, remember to see the road conditions, try it tomorrow, Bonda …
During the #8 Tianchuan-Tibet Extreme Challenge# Organizing Committee Announcement: 2017.05.27 17:39, the male god Sun Hui of Sichuan and Tibet reached the end of the 8-day Tianchuan-Tibet Extreme Challenge: Potala Palace Square in Lhasa. The time is 6 days, 17 hours and 39 minutes, and the male god of Sichuan and Tibet broke the old record and set a new record.
During the #8 Tianchuan-Tibet Extreme Challenge# Organizing Committee Announcement: 2017.05.29 11:46, Chinese rider Wang Ding Tao reached the end of the 8-Tianchuan-Tibet Extreme Challenge: Potala Palace Square in Lhasa. The time is 8 days, 11 hours and 46 minutes.
Over the Dongda Mountains!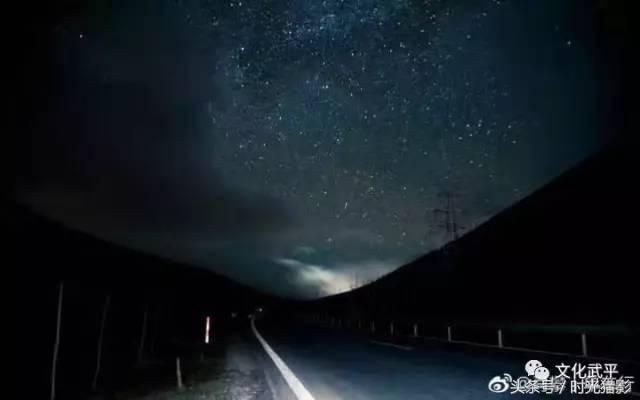 D11 days: Zuogon _ Bonda 104 kilometers, today's Dragon Boat Festival, in the morning Zuogon Inn owner sent a rice dumpling to eat, the taste is good, very homesick, wish family and friends Dragon Boat Festival health and well-being. Today's whole undulating road, Tian Tuo town rain supply to eat steamed buns, the hostess is Yunnan asked us to bake the fire pond together, now the altitude is 4184 meters, sitting in front of the window looking at the snow-covered peaks, climbing the stairs is very breathless, tomorrow to cross the Nu River 72 long downhill is very dangerous.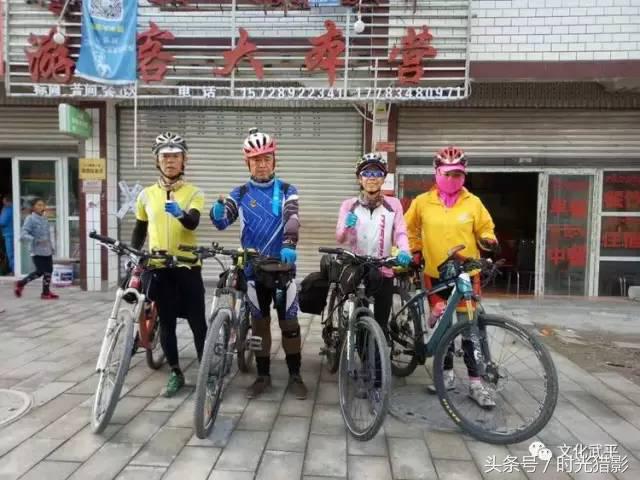 Day D12: Bonda – Yela Mountain (K3709 altitude 4618) – 72 turn – Toni Village (K3729 altitude 3665) – Karma Village (K3735 altitude 3298) – Nu River Bridge (K3753 altitude 2740) – Lagen Township (K3779 altitude 3118) – Hachijuku (K3790 altitude 3280) Depart at 8 o'clock 14 kilometers long uphill to Yela Mountain Pass visibility is less than ten meters, cars are on double flashing warning lights, the mouth wind is strong, there is cold rain, After taking photos, quickly turn 72 under the road, the bend is very sharp, on the edge of the cliff, keep to the right, the speed is within 30; There are occasional small pits under the 72nd corner, paying special attention to falling rocks, headwinds, and crosswinds; From Yakou downhill 8km to 72 turn observation deck. Then 30km long downhill to Nujiang Mingdong, 37km uphill undulating road, Jingkeng Ridge is called undulating road, the last 10km riding to almost explode, I used the undulating road as a training for the competition to press the ride, the result was about to explode, through Baima Town into Basu County [cultural scenery] Xiayala Mountain met the sun; 72 turns [accommodation] tourist base camp 40 yuan a night, lovely 72 turns, simply, today fell several riding friends, be careful, there are too many curves.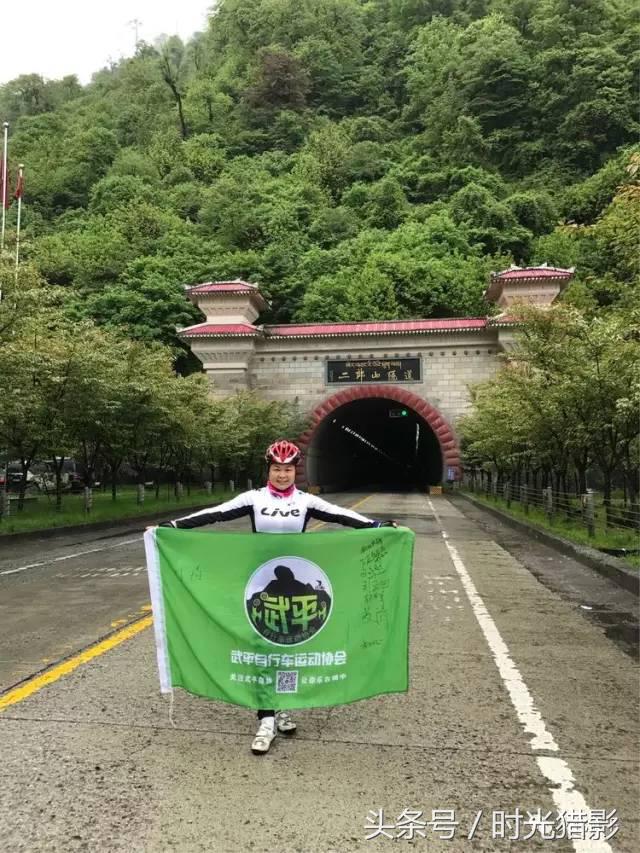 D12 days, all kinds of tired, intense, the four of us rushed to the pass of Anjura Mountain as quickly as possible, the scenery is beautiful, tomorrow through Bomi, Tongmai, Qiangla to Dongjiu Township, ready to challenge Sejila Mountain.
On D13 days, Ranwu Lake went to Renlongba Glacier to rest for half a day and rushed to Bomi, Ranwu to Bomi repair road 40 kilometers, and several wading areas, climbed down the glacier.
Heavy snow fell on the Sejla Mountains, the visibility of the pass was less than 10 meters, the wind and snow were mixed, the sky was full of snow, and the road was dangerously icy…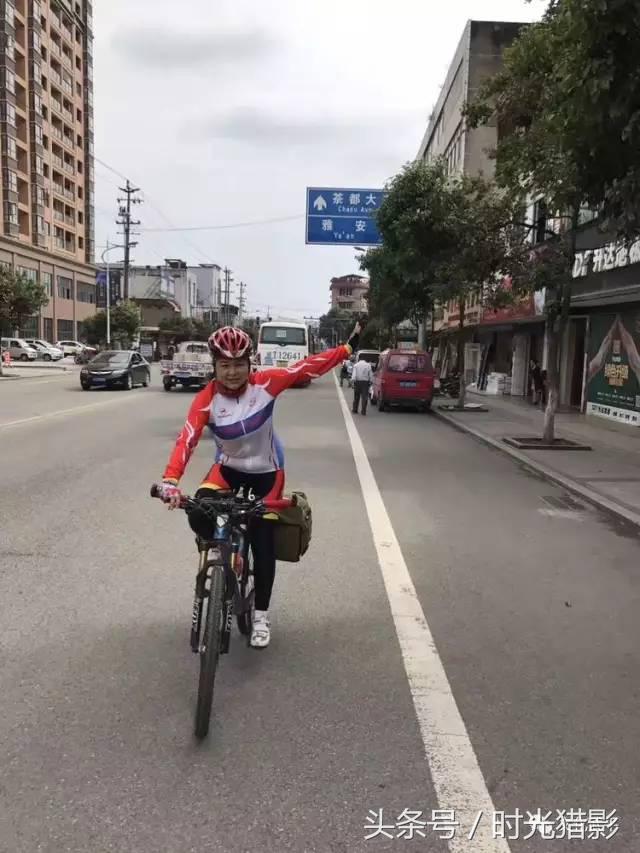 D14 days: Today Lulang town pulled 25 kilometers uphill to the Sejila Mountain Pass, almost 5 kilometers began to snow, the lower and bigger, around 12 o'clock to reach the pass and is being renovated, quickly hide in the toilet to get dressed, frozen until almost cold to death, especially frozen, flying snowflakes floating down immediately frozen, the road is very slippery road and road construction is very dangerous to ice, lock shoes and gloves are all soaked, hats are frozen, manual unconscious, downhill 32 kilometers is particularly severe test, fortunately the snow stopped 10 kilometers downhill, Today I was much luckier, came down to Nyingchi Town without rain, rode directly to Bayi Town, lived very well, bathed and washed clothes and ate the reluctant stone pot chicken, the taste is good, the greens are eaten, I haven't eaten greens for too long.
D15 days: Yak array in Songduo Township, a yak is worth about 20,000 yuan, a cordyceps 150 yuan, a small 30 yuan, 50 yuan, dig it back and brush it clean, finally eat butter tea and barley dumplings made by yourself, 35 yuan plus ghee and barley dumplings, so fragrant, the boss said that you can't eat too much for the first time.
On D16 days, it snowed heavily from Songdo to the Mila Mountain Pass, and the road condition of the downhill section was really poor, I fell a little, fortunately it was not a big problem, I pulled to the Mila Mountain Pass in one breath, arrived at the Potala Palace in Lhasa, and completed my challenge.
See the long-admired Potala Palace in Lhasa!
16 days of riding alone on the Sichuan-Tibet Line, thank you to all the family members who supported and cared for me along the way, colleagues and friends, thank you, Tashi Dele!