Crawling is the best way for newborn babies to know and explore the world, but the high pace of life makes modern people spend less and less time cleaning, and how can mothers rest assured that there is no clean floor?
Mother and baby products that can solve the problem of floor hygiene and cleaning are obviously the first choice of mothers, but most of the products advertised as "mother and baby" on the market are just gimmicks. To this end, Zhidian Laboratory has formulated the first domestic standard for maternal and baby home appliances "Q/CB 102.01-2017 Evaluation Methods and Technical Requirements for Maternal and Baby Home Appliances". In addition to putting forward higher requirements for the performance of home appliances, a number of testing standards have been formulated for the special needs of mothers and babies to use home appliances, such as material hygiene and health testing, antibacterial sterilization testing, extractable testing, safety device testing, etc., involving air purifiers, washing machines, air conditioners, refrigerators, dishwashers, water heaters and other dozens of home appliances.
iRobot Braava jet m6 floor cleaning robot is a floor cleaning product that has passed the "Q/CB 102.01-2017 Maternal and Baby Home Appliance Evaluation Method and Technical Requirements", which has passed multiple tests of China Household Electrical Appliances Research Institute in cleaning efficiency, noise and sterilization projects, and can effectively solve the floor cleaning problem.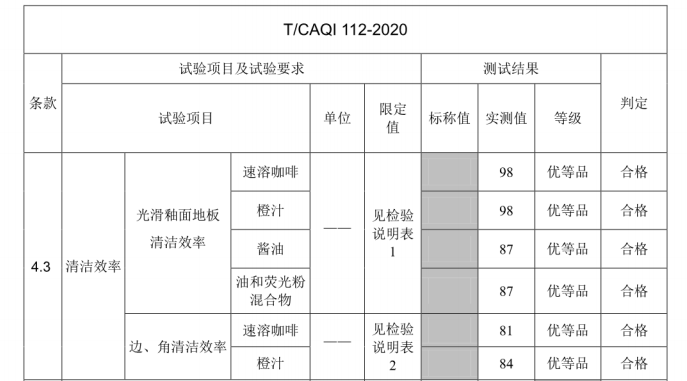 iRobot Braava jet m6 floor wiping robot
As a floor cleaning product, the Braava jet m6 performs well, and its small and boxy body makes it easy to go deep into the corner and deep clean the floor. Unique water-spray design, can soften dirt before cleaning, improve cleaning efficiency, wick fiber design cleaning pad, thick fiber, large dirt holding capacity, suitable for Chinese kitchen sticky environment, cleaning is also convenient.
Braava jet m6 also has built-in Imprint intelligent planning technology, which can actively draw room maps during the cleaning process, intelligently identify rooms, achieve orderly cleaning without omission, and use mobile phone APP to achieve regular and fixed area cleaning.
The noise performance of electrical appliances often affects people's frequency of use, and the Braava jet m6 performs well in noise, running up to 54.31dBA, which is comparable to library noise and does not affect normal work and rest.

In terms of floor sterilization, Braava jet m6 has been tested by the China Household Appliances Research Institute, which can effectively remove Staphylococcus aureus, Escherichia coli, Aspergillus soil, etc., the sterilization rate is 99.9%, and the mother can also rest assured to hand over the floor cleaning to it.
iRobot Braava jet m6 floor wiping robot sterilization test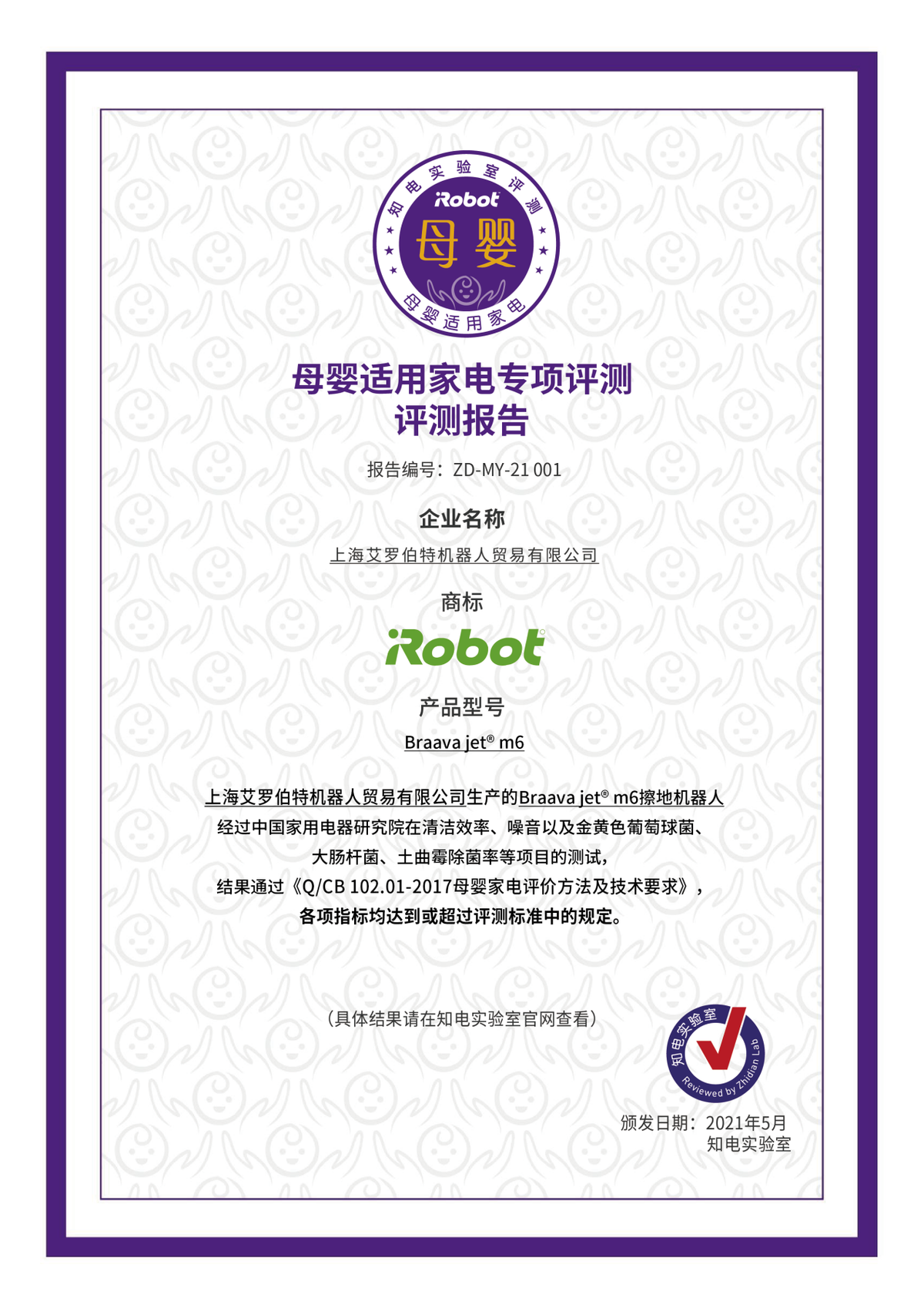 In terms of cleaning effect, the cleaning rate of instant coffee and orange juice on smooth ground was 98%, and the cleaning rate of soy sauce and oil/phosphor mixture was 87%. The cleaning rate of the corners reached 81% and 84%, respectively, and both achieved very good results.
iRobot Braava jet m6 floor cleaning robot cleaning test
It is worth mentioning that Braava jet m6 also supports Imprint interconnection technology, which can be intelligently interconnected with iRobot sweeping robot i series and s series to achieve one-stop floor cleaning after sweeping.
As a product that has passed the standard of maternal and baby home appliances, iRobot Braava jet m6 has shown extraordinary strength in the test, not only providing floor cleaning solutions for mothers and babies, but also taking an important step in the development and exploration of cleaning robot products.
iRobot Braava jet m6 floor wiping robot