Download MP3
Tip: Please select "Save Save As" to download audio.
Hua Wang (Shanghai) Product Service Co., Ltd. (Chairman and General Manager Zhongxi) announced that "Bioré" brand in June 2019, launched Tmall for limited cleaning items – Bi soft pore cleaning nose paste (Tea).
[Listing Goal]
In order to attract more young consumer groups, "Bi Sir" continuously develop new products, while improving the product chain, it is also constantly seeking more convenient shopping experience, meeting the shopping needs and habits of young group users. To this end, "Bi Sir" breaks the traditional marketing model, with Tmall, in the online sales method, in June this year, Tmall specializes in cleaning items – Bi soft pores cleans the nose stick (squatting). When using, the fresh broth is fascinating, making people seem to be in the Kyoto trail, bringing people to feel happy. Small and smart packaging design, convenient, easy access, anytime, anywhere.
【Features】
Nasal-shaped service hand-cut design, more compassion, more close, more effective cleaning blackheads
Bi soft pore cleaning nasal stickers (tea)
● It can easily clean the blackheads (angular plug) in the pores
● Continuous use can help pores become unexpected
[Product Name / Capacity]
Bi soft pore cleaning nasal stickers (tea) / 6 pieces
Bi soft pore cleaning nasal stickers (tea) / 10 pieces
[Listing date / listed]
June 2019 / (Tmall)
Bilou official WeChat: kao-biore
[Hua Wang in China]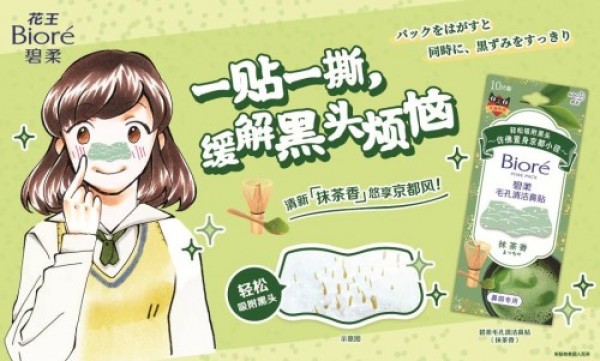 Huang Group was established in 1887. There are about 33,000 employees, in Japan, Asia, and Europe and America have established all associations in Japan. Through footholds in consumers and customer positions "to create quality products", they strive to fully satisfy and enrich the people of all countries. make a contribution. In August 1993, the first company in China was born in Shanghai. After many years of integrity management, Hua Wang carried out "cosmetics", "skin care, hair care business", "health care products", "health care products" in China "Clothing washing and home cleaning products"; at the same time, in the "industrial chemical industry", it should be subtracted against industry needs, and actively meet the market challenges. At present, there are many high-quality and consumers such as "Miao Shu", "Miao Shu", "Joy and Ya", "Jiefa", "Bi Soft", "Yun Run", "Mei Shu". Favorite brand. Adhering to the purpose of "Creating Quality Products", to create the basic idea of ​​clean, healthy and beautiful living environment for consumers, and Huang (China) has received the support and trust of China's consumers. In the future, Hua Wang (China) guarantees safety and quality products to consumers, will make a maximizing contribution to society's sustainable development.